Model 1220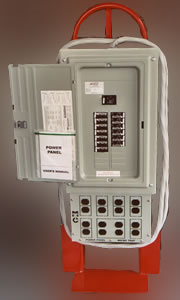 A convenient and easily transportable electrical distribution or sub-panel for connecting a wide variety of power tools and equipment on construction or other indoor job sites. Provides 13 GFI protected 120 Volt, 20 amp circuits. Can also be designed for outdoor use. Adaptable to any power supply requirement or availability. Specifications:
Main breaker load center, single phase, 3 wire, 120/240 VAC; 10,000 rating; 20 spaces
Number/type of circuits: 13 pre-wired, 120 volt 20-amp circuits grounded
Main circuit breaker: 2 pole, 120/240 VAC, 100 ampere
GFCI Protection: 20 ampere, class A – 5 MA circuit breakers.
Mount: Sturdy hand truck with semi-pneumatic tires
Dimensions:

51″ high
20″ wide
18″ deep

Weight: 84 lbs
POWER SUPPLY: 240 volt AC, 100 amp
USE: Indoor only
SERVICE CABLE: 20 feet aluminum
Model 820 GFR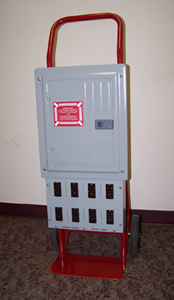 The Model 820 Power Panel is a more compact version of our Model 1220, which is the Industry Standard for many contractors. Designed as a portable power distribution center, the Power Panel allows for simple connection of tools and equipment found on most construction sites. The Model 820 GFR is mounted on a hand truck for easy movement. While connection is simple, safety is always considered first, which means every circuit is ground fault protected, in addition to a main circuit breaker. SPECIFICATIONS:
LOAD CENTER: 120/240 VAC single phase NEMA-type 1,  100 amp main breaker.
CIRCUITS: Eight (8) 20 amp 120 VAC, 3 wire grounded with circuit breaker.
RECEPTACLES: Eight (8) duplex, class A GFI, UL 498 & 943 compliant.
HAND Truck: 300 lbs. rated, painted steel with semi-pneumatic tires
DIMENSIONS:

47″ high
16″ wide
15.5″ deep
Weight: 58 lbs.

 USE: Indoor only.
OPTIONS: 240 Volt 30 to 50 amp circuit Weather protected NEMA 3 or waterproof NEMA 4 version available.